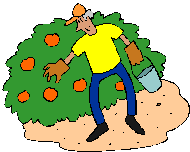 Using a Pressure Canner Instead of Water Bath Canner for the Same Recipe
People who have a pressure canner frequently want to know if they can take a water bath canning recipe and simply pressure can it instead.There are several different scenarios:
Scenario 1 - There are both recipes designed for the water bath and pressure canner methods
In some cases, food scientists (typically at a university or the USDA's National Center for Home Food Preservation (located at the University of Georgia) have created lab tested directions for both a water bath an d a pressure canner for the same product. Obviously, you should use the one appropriate to the canner you have., But that is rare. They pretty much just use the water bath OR the pressure canner for a given recipe and provide only one set of directions.
Scenario 2 - Follow the Water Bath Recipe - Just Use a Pressure Canner for the same processing time
In this case, the simple answer is yes, if you follow everything the same, only pressure canning it for the same length of time instead of water bath canning it. Note that I doubt whether all food scientists would agree to this. Their complaint is that it does not produce the same quality (taste, firmness, color, etc.); I have not seen where they had an issue with safety.
Of course, the additional heat could reduce your contents to mush, but it certainly ought to be safe mush.
Scenario 3 - Use the pressure canner but change the water bath recipe
OK, this does make no sense. Unless you have access to a food science lab and training in the methodology, you're simply guessing. ANd it could be fatal. Whether you are changing the ingredients (like removing and acidifier like vinegar or lemon juice) or reducing the processing time in the canner... it just makes no sense to assume that bacteria will respond they way you imagine they will in your made-up recipe. Don't do it. Stick to lab-tested recipes...
Note: But I only have a pressure canner!
Of course, you know you can use a pressure canner as a water bathcanner. Just don't seal it airtight: leave the regulator, weight and gasket off. Then you can put the lid on and since it won't pressurize, it works just like a pwater bath canner.